There are three types of policies you can create in your system:
Mandatory;
Optional/Consent; and
Informational.
You can have as many policies as you need to cover all your requirements, such as:
Cancellation Policy
Coronavirus safety and compliance
Payments
Terms and Conditions
Make-up lessons
Customer Agreements
Centre Rules
FAQs
Photography Consent
Social Media Consent
Mandatory Policies
Mandatory Polices are the non-negotiables that you need your customers to be fully aware of and that they must agree to if they attend your centre. Things like your Terms and Conditions, Enrolment Agreements, Cancellation Policy and Make-up Policy. Agreements to these mandatory policies cannot be changed.
Customers will not be able to perform any actions in the Customer Portal until they agree to these Mandatory Policies. They will appear in the portal as a pop-up window and they must tick the "I agree to this Policy".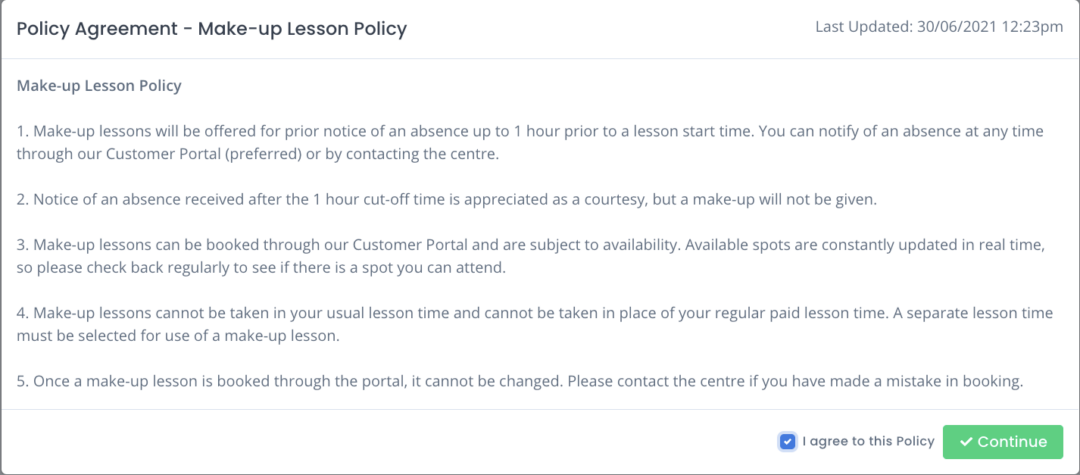 Optional/Consent Policies
These are intended for things like photo consent, publicity consent and social media consent. These are a yes or no answer policy, so your customers can either opt-in or opt-out. They can also change their minds on these and give or take away their consent at any time if they desire. The date of this change would be noted and visible to you.

Informational Policies
These are not really policies as such, more an acknowledgement of anything you want your customers to be aware of – like FAQs. These will not "pop up" in the portal as they do not require any form of consent, but they will be available to view, along with all other types of policies, in the customer portal menu.
Agreement to or denial of consent is clearly and quickly visible from the family screen, so you can see the agreement status of a family at a glance for ease of management, making more efficient use of your time.