SimplySwim's Policies and Agreements module will save you from drowning in an ocean of paperwork.
Our Policies and Agreements module enables you to create, store and track agreements to your centre's policies, consent forms, terms and conditions with ease. Any policies you create in your system will be automatically displayed in the Customer Portal as a pop-up window that your customers must action to enable them to continue.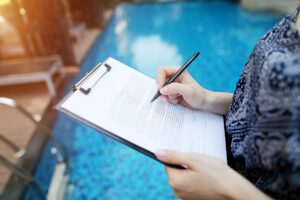 Policy Versions
There is versioning history, so you can see at a glance what version of a particular policy a customer is on. Whenever you update a policy or agreement, you can push this through as an updated agreement for everyone, or only for customers from that date forward – you have full control.
Any new or unactioned policies will appear as a pop-up window that your customers must read and agree/consent/opt-in or opt-out of before they can perform any actions in the Customer Portal. Agreements will automatically be updated in their family screen in SimplySwim, and you will be able to see if they have agreed as well as the version and type of the policy.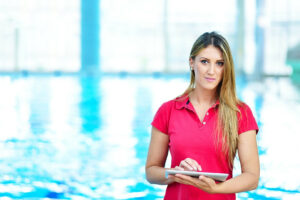 View and Print
You can view (and print if needed) your customer's agreement to any/all of your policies if there are ever any disputes over awareness. This shows the date, time, location and device the policies were agreed. Your customers can also view the policies and their agreements at any time in the Customer Portal so they have a readily accessible record.
Everything is updated in real time.
Do away with the clipboards, printouts and paper files clogging up your office, or the scanned files clogging up your hard drive. Stay a step ahead with Policies and tracking of Agreements at a glance within SimplySwim. It will be a game-changer for your centre.
Watch our Webinar
More details about our Policies & Agreements functions are available in our recent Policies & Agreements webinar.