Upcoming lessons are displayed in the portal, ensuring your families are aware of their lesson schedule for each student. They can notify you of an upcoming absence by clicking on "Change" next to that attendance date.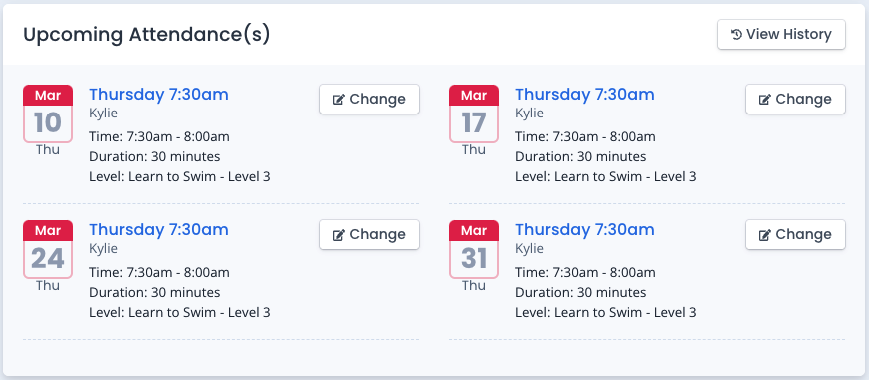 The family would then select one of your pre-configured non-attendance reasons to notify of the absence. You can have any number of reasons available and can also allocate any non-attendance reason to automatically give the student a make-up lesson or return a credit of the lesson value onto the family's account.
Reasons available in the customer portal can be different to those available for your staff (we recommend allowing reasons that return a credit to only be available to your staff in-centre rather than through your customer portal).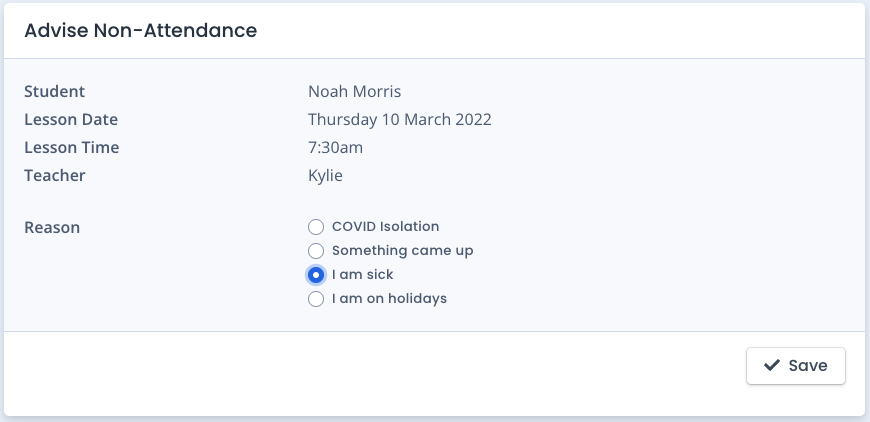 Absence notifications will be allowed up until your pre-set cut-off time. This can be anything from 1 minute to 1 hour, 1 day, 1 week, or something in between.
When a customer notifies an absence, this updates in real time in your Attendance list and the Student's screen, displaying the notification time and the non-attendance reason used. This immediately creates a lesson vacancy that automatically becomes available to all other students of the same level to be used for a make-up lesson booking.

The absence is also updated in the customer portal with "Away" and the non-attendance reason used. The customer cannot action any further changes to that lesson.